Toll House Cookie Squares
This is the ultimate party cookie! For some strange reason, it seems to be welcomed at every party that I've ever held or hosted. Then, the times when I get a little more creative and bake something cute and festive, I'm always asked, "What? No Toll House?" It's a cookie phenomenon that, if you wish to try, the recipe is below. Feel free, however, to add or omit the nuts, or change up the extract from vanilla to maple or almond (but then be careful what type of nuts you use, if any). In any case, enjoy and try not to eat the batter, eh?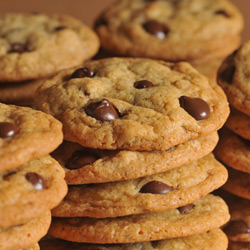 Toll House Cookie Squares
375°F 10 - 12 minutes (metal pan)12 - 14 minutes (glass pan)Cream together:
- ½ cup margarine
- 6 tablespoons granulated sugar (or turbinado)
- 6 tablespoons packed brown sugar
- ½ teaspoon salt
Add:
- ½ teaspoon vanilla extract (real or artificial)
- ¼ teaspoon water
Beat in:
- 1 egg
Add:
- 1 cup plus 2 tablespoons all-purpose flour
- ½ teaspoon baking soda
(Optional) Mix well and add:
- ½ cup chopped (and slightly toasted) walnuts
Directions:
- Spread in a greased pan. Metal (13x9in) pan is preferable, but supposedly you can bake it in a glass one, too.
- Sprinkle the top with 1½ to 2 cups of PC Decadent chocolate chips.
- Bake for 1 minute at specified baking temperature to melt chips.
- Remove pan from oven and, with a knife, marble the top. Don't be afraid of scraping the bottom...It just means that you'll have a thoroughly chocolate cookie!
- Bake for 10 - 12 minutes for a metal pan, or 12 - 14 minutes for a glass pan.
- Cool completely, then cut away from pan and then into desired size squares.
Makes about 24 squares, more or less, depending on pan size and square size
.
Eat up and enjoy!