New Focus and Possibly Fencing
I was riding the GO bus today to York University and was reading a book, about the achetypes that link all classic literature, called
The Golden Thread
. What a fantastic read and completely voluntary, but I soon got distracted as my imagination wandered onto the topic of life. You know, I feel pretty lucky right now. Well, like I have written in my Blogger profile, it's not really luck when you're a Christian...it's more a blessing deliberately given to you by God.
Anyway, I was staring out the window and reflecting on everything going on nowadays. There's so much that is keeping me busy, but yet, it's all good. I'll admit, for awhile I was depressed due to some life changes, but all has returned to normal again. Of course, not too normal, because that would be just plain boring, but I finally feel like myself again.
It's amazing how life and a bad relationship with God can change a person. I've been on a decline before, but certainly not as long as this. My nineteenth year was joyous in many many ways, but my heart was craving God and I just couldn't pull myself together. However, I finally got the guts to give up my unproductive ways to focus once more on God. As far as I'm concerned, I needed to strengthen my relationship with my Heavenly Dad before I could focus on a relationship with someone else. My love needed to be passed over into His hands before it could be shared with whoever my future soulmate might be. It's nice to be good with the Big Guy again!
So, I've made my decision. Everyday, I'm trying to focus first on Him. Even on those mornings when my evil IKEA alarmclock lets loose at 5:30am, I try to say good morning to Him before I repeat it to my parents or my nice, hot shower. You know, it felt good. It felt really, really good to wake up to God. I think I can get use to this!
Hmmm...as for the rest of my life...
I was thinking about this spring and
what I could do with my single self when school concludes for the season. I plan to work, obviously as moolah doesn't grow on trees and York likes to suck their students dry, but I was thinking more along the lines of extra cirricular activities. So, I opened the city's
Inside and Out Guide
for classes of all kinds and I believe I found a couple. There's a western line dancing which I love to do and also a fencing class. How cool is that? I've always liked fencing, so I figured that this would be a fun class to take...I mean, after all, you never know when I might be challenged to a dual; they're
so
common these days! Hahaha!
Well, I have Mom's birthday gift to start. She does a lot of baking (well, we both do) and her apron is looking really sad, so I went to get some fabric for a new apron and oven mitts. I found the nicest fabric (different width strips of soft greens, beiges, browns and salmony-pinks) and, with my new desk, I can now use my sewing machine in my room instead of the kitchen table.
So, I hope everyone has a great week and remember that Friday is St. Patty's Day...so let the green ale flow and don't forget: "Kiss me, I'm Irish!" (Well, Scottish, anyway...close enough, but I also except hugs!)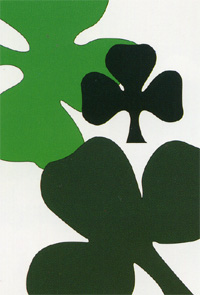 God bless and never forget to smile!